Shocking footage captures boss threatening businessman:
'You piece of s***, I'll own your house'
The National Guild of Removers & Storers in theory exists to reassure consumers that they are dealing with reputable firms but seems more interested in suing members for huge fees.
Click here to see the video of the very angry NGRS founder Geoff Salt.
As conversations go, the one captured on the video above was brief and nasty. Alex Luckes, who runs a family removals business, approached ­Geoffrey Salt, who owns a trade ­association for removal firms.
Luckes: "Mr Salt, how are you doing?"
Salt: "F*** off. You know what, I'm going to own your house."
Luckes: "You're going to own my house? Why are you saying that?"
Salt: "Because you're a piece of s***."
The irony behind this exchange is that Luckes and Salt should be colleagues.
Salt owns the National Guild of Removers & Storers, which in theory exists to reassure consumers that they are dealing with reputable firms, and in turn those firms should get more business.
But Luckes' firm is just one of several that have fallen out ­spectacularly with the Guild, a for-profit limited company, which has made a habit of suing removal firms for astonishing sums.
The court case that preceded Salt's outburst – and might explain why he exploded – involved McCrorys Removals of Nottingham.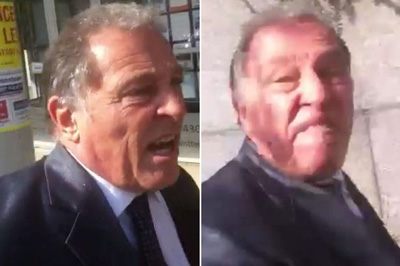 Angry: Geoffrey Salt, owner of the National Guild of Removers and Storers
Owner Patrick McCrory received a demand for £3,800 after failing to cancel his membership of the Guild when a free trial period ended.
He didn't pay and the demand escalated to £11,000.
"I offered, reluctantly, to pay the £3,800 to get them off my back," said Mr McCrory.
"But they would now not accept any less than £20,000, saying that if it went to court it could cost me £65,000."
It did go to court, where the judge ruled that the Guild's demands were "wholly unmeritorious" and it was left to pay its own legal bill.
"The Guild's fees were in the region of £30,000 and the court not only refused those fees to be claimed, but also awarded McCrorys Removals £4,917 towards our legal costs," said Mr McCrory.
"Being associated with this Guild has been the most damaging thing I have done in my whole life of building up my removals business.
"But when a judge remarks that it has rules which 'fail at the first hurdle' then other removal companies can take heart and be encouraged to fight claims that they think have no ­justification."
Among the other firms that have fought the Guild is Intransit Removals and Storage of Trowbridge, Wilts, which was sued for allegedly using the Guild logo after ceasing to be a member.
The firm argued that the logo appeared on third-party directory sites over which it had no control and the High Court agreed, throwing out the claim.
Last week the Guild was in court yet again, this time suing Anthony and Catherine Statham who run Marubbi's Removals & Storage of Wrexham.
It had claimed £40,000 plus costs, saying that Marubbi's purported to be a member of the Guild after leaving.
Mr Statham argued the claim to still be a Guild member appeared not on their own website but a trade site.
Last week the Intellectual Property Enterprise Court ordered Marubbi's to pay the Guild just £5,400, with no order for costs.
A delighted Mr Statham said outside court: "This is a result, justice has prevailed."
I've been promised a statement by the Guild's director Jon Martin but I'm still waiting.
A £55,000 fee charged for web error
Deciding that "it was a lot of money for not very much", A Luckes & Sons, of Swindon, Wilts, left the Guild.
Inadvertently, the firm left the Guild logo on its website and paid £900 when the Guild complained.
"We forgot all about them until we got a letter saying we have infringed their copyright again and this time they demanded £55,000 plus costs but would settle for £35,000," boss Sally Luckes said.
"What had happened is that the server which hosts our website crashed and when it was put back up they used a cached version, the old one showing the Guild logo – we never did it and have not admitted liability.
"It's a life-changing sum, we are talking losing your house, your business, everything. It has caused untold stress."
The Guild has also launched a defamation case against Sally, her husband Alex and 10 others who banded together to fight its demands.
"We reached out to other removal firms and got a support network going," said Sally.
The Guild is suing us too
When the recession hit, John Powell's firm Ledbury Removals, of Ledbury, Herefordshire, fell behind with its annual Guild fees and owed £1,958.
Aged 69 and hoping to retire, Mr Powell was looking to sell the firm and asked the Guild if, as a loyal member of 20 years, it would cancel his membership.
"I got a letter back saying that I had to pay them more than £7,000," said Mr Powell.
"Then a demand for £24,000 arrived, saying that if I paid forthwith they would reduce it to £18,000.
"I declined and the Guild issued court proceedings against me.
"They are estimating their legal costs to be £29,880, that means with their latest demand they are seeking a total of £53,000 for arrears of less than £2,000, which I had no intention of not paying. It's disgraceful behaviour."
If you're the victim of sharp practice I want to hear about it. Email me at investigate@mirror.co.uk or write to Penman Investigates, Daily Mirror, One Canada Square, London E14 5AP. I can't respond to every letter but can promise to read them all. Please, no SAEs or original documents.